Succeeding in the property management industry in Utah can be difficult due to the many competitors. In order to stand out from the competition, we here at Wolfnest have to make sure both landlords and renters can find our business online. Not only do we have to ensure that our website is simple and easy to use, but we also have to ensure that our potential clients are easily able to find our website in the first place. So, in order to do this, we began working with Firetoss, an agency here in Utah that offers various digital marketing services. Since the beginning of our partnership several years ago and still today, Firetoss helps us continue to build and maintain a strong digital presence with their Utah SEO services.
What Is SEO?
If you are familiar with digital marketing, you have probably heard the term "SEO" before. SEO stands for search engine optimization and is the process of increasing the visibility of your website to search engines, therefore driving more digital traffic to your website. On average, Google processes over 40,000 search queries every second, which translates to over 3.5 billion searches per day. And, that doesn't even include other search engines such as Bing or Yahoo.
So, what does this mean? It means that users are flocking to search engines to help them find the answers, services, and products they are looking for. But, research shows that users overwhelmingly choose the first few organic listings on the search engine results page (SERP), with click-through rates decreasing to less than 3% after the 6th listing. SEO helps optimize your website, increasing its ranks on the SERPS, and ultimately driving more traffic to your site.
Utah SEO Services
Understanding the importance of SEO, we knew we needed some help with our Utah SEO for our website. Instead of trying to tackle the optimization of our website ourselves, we wanted the expertise of the Firetoss SEO team so that we could focus on the parts of our business that we love- like our customers. By partnering with Firetoss for their digital marketing services, we are able to spend more time managing our rental owners' properties, solving problems, and keeping our clients happy and satisfied.
Here are some of the ways in which Firetoss helped build and execute our Utah SEO strategy.
Initial Research & Goal Implementation
To fully understand what it is we do here at Wolfnest, the Firetoss marketing team started out by strategizing and researching our industry, business, and website. On top of that, they also researched our competitors, performing a competitive analysis that showed us where we had opportunities to improve and stand out.
Using this information, Firetoss, in collaboration with our team, developed our Utah SEO strategy. By working with us, the experts at Firetoss were able to clearly understand our goals and put a plan in place that would help meet the KPIs we had designated. Having these clear, definable goals gave us a path to success and helped us understand the work Firetoss would be doing going forward for our site.
Technical SEO
Technical SEO services include things like optimizing page speed, ensuring a mobile-friendly site, creating sitemaps, adding structured data, and optimizing image types and sizes. These elements of Utah SEO will help search engines crawl and index your site effectively- which is the first step to ranking.
Things like improving page speed improve the user experience of your site, keeping users on your site as opposed to leaving and choosing a competitor instead. So, why do search engines care about performance? Well, search engines like Google want users to have a great experience too because that helps ensure that users will return to Google as opposed to other search engines. This is why search engines use page speed to help rank websites on their SERP.
These technical issues are only part of SEO digital marketing services, but they are extremely important. And, they take time and expertise to implement. That's why we chose to have Firetoss take care of these technical fixes instead of investing a large amount of time it would take to do it ourselves.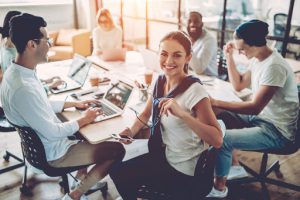 Content and Link Building
Other than technical SEO services, Firetoss helped us improve the content on our site while implementing a strategic link structure as well. Content is a way to provide users fresh, valuable information, increasing the E-A-T (expertise, authoritativeness, and trustworthiness) of your site. This helps in two ways- it builds brand awareness and trust on the user end, and it improves rankings.
With Firetoss, not only were we able to produce more high-quality content like landing pages and blogs, but we were also able to strategically place keywords throughout the content, helping to increase traffic. Keyword optimization includes placing important keywords in the body, headers, URL, image alt text, and meta tags of your pages. And by working with Firetoss, we didn't have to worry about any of this, as they researched and found the terms with the highest search volume and placed them in the proper elements throughout our site.
Linking is another crucial aspect of Utah SEO, and Firetoss helped create and implement a linking structure for our site, using current and future content. Linking is another way that Google judges authority, and it also helps users and search engines navigate your site.
Wolfnest and Firetoss
Through working with Firetoss, their Utah SEO team was able to transform our website to a potential landlord and/or renter's dream tool, packed with information, helpful articles, and listings. We are ranked at the top of Google for our desired keywords all thanks to the SEO services Firetoss has to offer. We continue to work with them to maintain our rankings and drive even more customers to our site. So, check out their Utah SEO services!