Midvale Property Management
Let us manage your Midvale Rental Property
$0 Leasing, $0 Lease Renewal, $0 Sign Up Fees!
Transcript

Speaker 1 [00:00:05] Hey, guys, it's Ryan Leonard with Wolfnest Property Management, and today I wanted to talk about really our company and see if we can be a good fit for you and your investment property needs. So let's take a look. First thing we have here is our competitive pricing structure, one of the only companies here in Utah that did not charge leasing fees, lease renewal or any sign of fees. So whether your properties are occupied or vacant, when you're looking for management, there's not going to be any costs associated to you for bringing that property on board. Also, leasing and lease renewal fees. That's something that we have built into our management fee, which really allows us to be strategic for you in that property, meaning you're not paying us five hundred dollars to place a tenant or one month's rent to place a tenant or renew a tenant. That's something that, again, is built into our program. And you're not going to see those high fees that most companies are going to be charging. Next one is one hundred percent satisfaction guaranteed. Our contracts are getting pretty rare. We're one of the only companies that have a month to month agreement. What that does for us is it keeps us motivated. Also for you, it gives you the opportunity, if it's not a good fit, to be able to give us a notice and take that property back. But again, our theory is that we're not going to give you a reason to cancel. So why tie in for one year to year terms like most companies do? Also, strict rent collection. That is one thing that most investors want to see is are you collecting on time and am I getting paid? One, ninety seven percent of our portfolio pays on the first of the month. And that's something that we're definitely proud of, which allows us to get our owners paid and we send our AHC's on the 10th of each month. So definitely a big push for us is, again, that strict rent collection. Also, it's probably screening tenants. You know, we're not in a hurry to place a bad tenant in that property. Management can be, you know, pretty easy unless, you know, we have a headache type tenant in there. So doing an exhaustive background and credit check on those tenants is a great way to ensure that we're never going to take care of your property, obviously pay rent on time and also be able to be held accountable. Come move out for any damage that may have happened at that property. Also, our maintenance program, we really have a hybrid model, meaning we don't just do in-house. We do have an in-house tag, but we also have a network of third party vendors that we really use for any specialty type repair, which gives us the freedom to actually go to bid on any jobs that may be over a certain threshold that you set up with us for. That's two hundred dollars five hundred dollars thousand dollars. We can go to bid on jobs and get you the best price possible. And then also communication. That's a big one for us and why we have a little bit different model than the competition. It's actually I'd get a hybrid model which will dove into here in a little bit. About Wolfnest so we specialize in residential management, single family homes, townhome, condos, small, multifamily. Those are really our niche. And what we like to focus on with our portfolio, we cover Provo to Ogden, Twilla to Park City and anyone familiar with Utah. That's a pretty big piece that we cover. So odds are that we are going to be able to manage the properties again long as we fall in that that area. Next one we have is again, that model, our management model is a little bit different than the old school model. Typically, you have one agent with the older model that's going to manage 50 to 100 doors and they're going to be responsible for the maintenance, for the leasing tenant relations owner relations showings, the inspections, marketing and pre marketing. That's a lot of hats to wear. If I was a property manager and that's really why there is a negative connotation with property managers. Now with us, again, it's a newer type model and what our owners are going to have is one point of communication on our owner relations team, meaning if you have a question about maintenance, they'll go ahead and reach out to our maintenance manager, gather that information and then report back to you. So this way, you're not being bounced around again, have one point of communication and then we have different department managers who are really hyper focused on one aspect of our entire portfolio, which really streamlines our operation. Next piece of it is going to be, you're not paying us a dime until we deliver qualified tenants and the reason for that is, again, it's kind of commission based. It's keeping us motivated. One thing that we are going to do, though, is professional photography. We also have the capability to do three hundred and sixty degree video tours, which are great for out-of-state tenants, looking for a place to live here in Utah and don't want to hop on a plane. They can do a virtual walk through of our properties. Also exposure. Not only we're going to put it on the big players here, Zillow Carcel Rentler. We're also going to be put out almost 28 different listing sites to make sure that your property is as much exposure as possible. Also, a big piece for us is the rental analysis. Now, we do not dictate rental rates. Again, we're investors ourselves. We want to make sure that you have a say in what those are your properties rent for. Now, we are going to give you our professional recommendation by looking at a couple of different things. One is going to be market saturation. You know, what are you currently competing with in that area, looking at our portfolio? Odds are we're going to have between 10 and 20 like properties in the surrounding area and give you a good idea of what rents are currently and also what type of rental preachin rental appreciation we've seen. And then last one is this cool software that we have that actually pulls leasing information from other management companies and gives some cool data like, you know, estimated vacancy rates. What are the median rental rates? What's a zip high rate that we could possibly see in that area and also give you some comparables or like properties to review? So, again, that's Ryan with Wolfest and feel free to reach out and check out our website. You can also request a free analysis on our website or give me a call directly. That's actually my cell phone there. And I'd love to discuss our management services a little bit more in depth and see if we could be a good fit for your portfolio's needs. So thank you so much.
As investors ourselves, we struggled to find quality property management services in Midvale at a reasonable price. Finally, after being disappointed by several local companies, we decided to implement our own brand of property management and Wolfnest Real Estate & Property Management was born. Almost immediately, we noticed maintenance issues took hours instead of days, tenants started to pay on time and renew leases, vacancy rates declined sharply, and most importantly, we started to make more money from our rentals.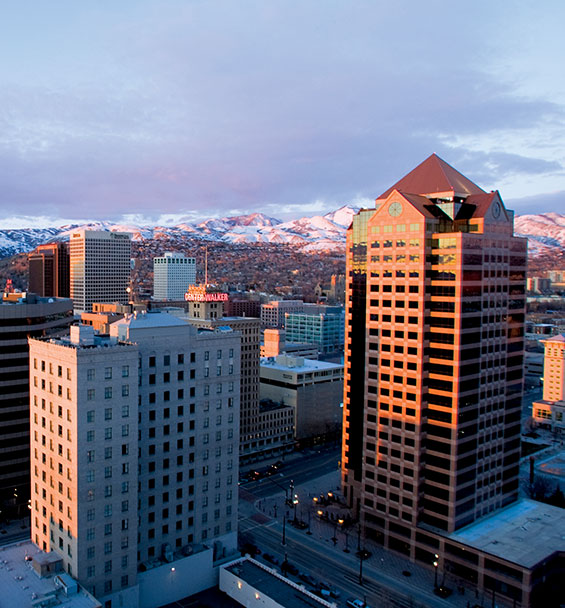 Discover The Midvale Area
The Midvale, Utah real estate market presents an enticing opportunity for prospective property manager investors seeking a flourishing and promising landscape. Nestled within the heart of the vibrant Salt Lake City metropolitan area, Midvale boasts a unique blend of urban convenience and suburban charm that appeals to a diverse range of residents. Investors can revel in the region's sustained economic growth, driven by the presence of thriving industries and a robust job market. This economic stability translates into a steady demand for rental properties, making Midvale an ideal destination for property managers eager to capitalize on the rising demand for quality housing. The town's strategic location, coupled with its friendly, community-oriented atmosphere, ensures that investors can not only expect healthy returns on their investments but also establish a lasting and positive presence in the ever-expanding real estate market of Midvale, Utah.
Furthermore, Midvale's real estate market offers a spectrum of investment prospects, from multi-family units to single-family homes, catering to various investor preferences. With a strong sense of community and a plethora of recreational amenities, the town attracts tenants seeking a high quality of life, enhancing the potential for long-term lease agreements and tenant retention. As an investor-friendly destination, Midvale's favorable property tax policies and low vacancy rates create a supportive environment for property managers to thrive. In sum, Midvale, Utah stands as an inviting canvas for property manager investors, promising not just financial rewards but also the satisfaction of contributing to the growth and vitality of a burgeoning real estate market in a beautiful and thriving community.
Read More +